While spring cleaning isn't for a few more months, we can't help but want to spruce things up in January. The beginning of a new year always makes us yearn for a fresh start. It's especially the perfect time to switch up your workspace at home or in the office to make every day less stressed and more organized. So here are five easy ways to help you reorganize your workspace in 2020.
keep it clean but cozy
When reorganizing your space, one of the first things you should do is wipe it down so you're working with an entirely clean desk area. When you're done, tuck away any leftover cleaning supplies in a desk drawer so you can keep up on cleaning your workspace throughout 2020. However, a clean workspace doesn't mean it has to feel cold and bare. Here at Vera Bradley, our associates love to fold a bright plush throw blanket over the back of their chairs for when it's chilly and simply to add a pop of color to their desk space!
clear the clutter
Once you've wiped down your space, look around and ask yourself, "what do I truly NEED that is currently on my desk?" You might find that many pieces of paper on your desk are ready to be recycled or your 2019 calendar can be retired. Clearing out the clutter will give you the best feeling of all as you reorganize your desk.
maximize your space
Now that you've removed what you no longer need in your desk area, think about how you can maximize your workspace even more. Toss all of those pencils and pens into our On The Roll Cosmetic Case, and use our Laptop Organizer to hold all of your tech essentials in one space. Condensing everything will make you feel like there's more room to breathe and work.
add a calendar to your workspace
We know there's a calendar everywhere from your desktop to your phone, but hear us out: A calendar sitting right on your desk will help you immensely as you begin to plan out 2020. Best of all, going with an old-school calendar can double as a decoration for your desk. Check out our Desk Calendar that displays an adorable new design each month.
take five
Remember how we said to keep your cleaning supplies nearby? That's because you might find yourself using them every day. One way to keep your reorganized space nice and tidy is by using the last five minutes of your day to clean up your area. Place loose papers in a folder, tuck away chargers and wash out your coffee mug. Cleaning up a little every day will keep you from spending a full two hours reorganizing each month!
shop
All Gifts
Desk and Stationery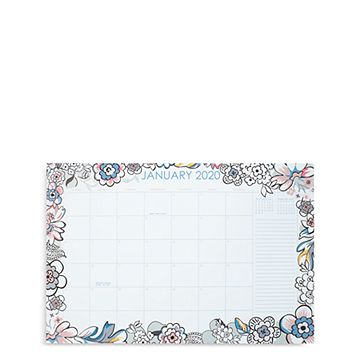 All Gifts
Desk and Stationery
Planning out your goals for 2020? These five styles are here to help!