When it comes to flying, we've all had that moment when we've crossed our fingers and hoped that the bag we're bringing through the airport is small enough to comply with carry-on regulations. A carry-on bag that makes going through security and walking to your gate a breeze helps to take the stress off of traveling. So get ready for take off with any of these styles that are guaranteed to be carry-on compliant.
lighten up journey backpack
$175
 12.50″ w x 17.75″ h x 9.00″ d
When it comes to carry-on backpacks, it doesn't get better than the Lighten Up Journey Backpack. This bag can be used to fit as much (check out how you can pack for 7 days in this one bag!) or as little as you need. From a shoe to sunglasses compartment, the Journey Backpack has a place for everything.
small travel duffel bag
$70
 18.00″ w x 8.50″ h x 8.50″
If you've always been a little sad that your large duffel is too big to bring along as your carry-on, you're in luck with the arrival of our new Small Travel Duffel! It's the same silhouette you know and love in a compact size.
compact weekender travel bag
starting at $100
16.25″ w x 10.00″ h x 7.25″ d 
Our carry-on of choice for international flights is the Iconic Compact Weekender Travel. Since you've most likely checked luggage under the plane, the Compact Weekender helps you pack light for the flight so you only bring along the true essentials for traveling.
weekender travel bag 
starting at $120
8.50″ w x 12.50″ h x 7.50″ d
If you're trying to travel with a carry-on and a carry-on alone then our top pick is the Iconic Weekender Travel Bag. For a two-three day trip, this silhouette will do the trick with a total of eight pocket that'll keep you organized for the entire getaway.
deluxe weekender travel bag
starting at $150
 18.50″ w x 12.50″ h x 7.50″ d
If you love the weekender, but are needing a travel bag that works better for business trips, test out the Deluxe Weekender Travel Bag. It's the iconic style you know and love with three compartments and a laptop sleeve.
lay flat duffel bag
$180
 22.00″ w x 12.00″ h x 9.00″ d 
For the packers who need to make use of every last centimeter in their carry-on, the Lay Flat Duffel is the style for you. This travel bag completely unzips to open up and lay flat so you can fill both sides to the brim.
lay flat weekender bag
$200
 18.50″ w x 12.50″ h x 7.50″ d
For those who prefer the weekender style to the duffel, we made the Lay Flat Weekender Bag. While it's slightly smaller than the Lay Flat Duffel, it completely unzips too so you can maximize packing space.
convertible garment bag
$198
 22.00″ w x 12.00″ h x 9.00″ d
Same-day flights can be are a whirlwind. No matter if it's a job interview or a wedding, sometimes you just need a bag that can keep an outfit looking clean and wrinkle-free. That's the Convertible Garment Bag. This style travels like a duffel and unzips into a garment bag that carefully holds your clothes while in transit.
miller travel bag
$110
 16.00″ w x 13.50″ h x 7.50″ d
This silhouette was originally created decades ago, but we brought it back recently with the updates you need for a carry-on bag. The back now features a slip pocket that unzips to create a trolley sleeve so you can pick up your luggage at baggage claim and roll on your way!
lighten up small foldable roller
$178
 14.00″ w x 20.00″ h x 9.00″ d
For many, traveling on wheels is the only way to go. If that's your mantra, and you're an overpacker, go for the Lighten Up Small Foldable Roller. This luggage piece is small but mighty with a spacious main compartment and two large exterior zip pockets to toss in any last essentials you want to bring along.
rolling work bag
$198
 17.50″ w x 14.00″ h x 9.00″ d
The Iconic Rolling Work Bag is your only option when traveling on one-day business trips. It's a work bag designed with a built-in laptop sleeve, four pockets and a trolley sleeve. What more could you ask for?
iconic small spinner
$248
 13.25″ w x 22.00″ h x 9.00″ d
As far as travel bags go, there are few styles more timeless than the Iconic Small Spinner. From the 360-degree double wheels to a TSA lock, this piece of luggage checks off every mark for a perfect carry-on.
small hardside spinner
$228
 14.00″ w x 22.00″ h x 9.00″ d
Perhaps you're a frequent flyer who needs a carry-on that can stand the test of time. That's why we designed the Small Hardside Spinner. This style offers the protection of hardside luggage you need with the pop of color you want!
shop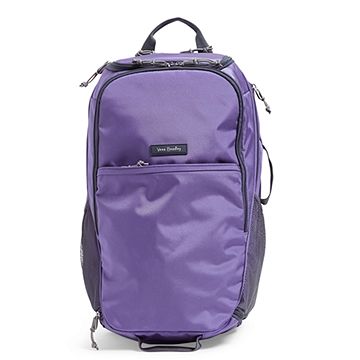 All Gifts
Gifts
Graduation
Laptop Backpacks
Laptop Bags
Travel Backpacks
The Duffel you know and love is now available in THREE different sizes, and Assistant Designer Emmy is sharing all the details on what's new about your favorite travel bag.