We know fall officially starts in a few weeks, but we're having trouble containing our excitement! With the recent arrival of our autumnal Indiana Rose pattern, we have a serious case of fall fever (in the best way). It may still feel like summer outside, but we're ready for the chunky scarves, cozy cardigans and pumpkin-flavored everything to fully takeover. If you've been busy making your fall shopping wish list (guilty!), pull up your Notes app and get ready to make a few additions. Here are six must-have new arrivals you need for fall.
lighten up shopper tote
Although when we think of farmers' markets, we usually think of summer, there is something really magical about farmers' markets in the fall. Between the seasonal produce and festive crafts and sipping on hot cider and stepping on crunchy leaves, we can't get enough! If you're a total autumn farmers' market fan, you absolutely need our new Lighten Up Shopper Tote. This lightweight bag can easily be folded down and packed into your handbag and taken out when needed.
hardside luggage set in garden dream
Need a new luggage set? Look no further than our newest pattern in the Hardside Luggage Set: Garden Dream. This pretty fall floral is the exact kind of bold option you need in rolling luggage to easily spot at baggage claim at the airport. Don't need a full set? No problem! You can buy the Small Hardside Spinner and Large Hardside Spinner separately, too!
packing cubes
You asked for it, so they're back! Packing cubes are back and better than ever, now offered as a set. This Packing Cube Set has three different sized cubes, designed to fit in your luggage perfectly! If you haven't tried using packing cubes before, now is the time. You'll be surprised by how much more you can fit in your luggage by organizing with these handy travel accessories.
foxwood navy
If you've been a long-time Vera Bradley fan, you may remember our limited-edition collection of mixed denim and leather bags from 2015. This small assortment was extremely popular and sold out very quickly. If you were a big fan of the collection, or perhaps weren't able to get your hands on it last time, we have some exciting news! We have an updated version this fall mixing leather and a pretty floral denim offered in three styles: Carryall Backpack, Carryall Small Crossbody and Carryall Shoulder Bag. Who knows how quickly it will sell out this time — so we recommend acting quickly if you want to make one of these styles your own.
the new glennas
The Glenna Satchel has been a fan-favorite bag for over a decade, so we decide to give her a couple new friends! Meet the Mini Glenna Satchel and the Glenna Hobo Bag. With similar features and style details, these two new versions have everything you love about the original in new sizes.
garden dream
Garden Dream is available in more than just our Hardside Luggage Set — it's also offered in our Performance Twill Collection! Our new water-repellent fabric is lightweight, durable and sleek, great for work, weekend and everything in between. This autumnal floral is our latest addition to the new collection, which features styles you know and love like the Large Duffel and Campus Backpack. Come back to the blog later this week for an entire post breaking down the details of our latest innovation.
shop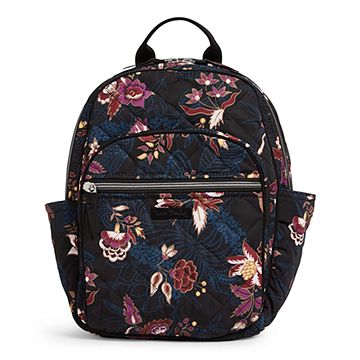 All Gifts
Gifts
Purse Backpacks
Which styles are you most excited to add to your collection for fall? Comment below!