Summer days will always have our heart, but when August rolls around, we instantly catch a case of fall fever. It may be 80 degrees outside, but in our minds, we're already daydreaming of sweater weather, apple picking and pumpkin spice lattés. But, what do we love most about the season ahead? Fall colors, of course. This is why our latest pattern, Raspberry Medallion, is filled with tones of berry, spice and everything nice.
the inspiration
The medallion motif on Raspberry Medallion may feel familiar. We've simply updated this timeless design previously colored in lilac and charcoal with warm hues chosen for the change in seasons. Print Designer, Amanda, selected shades to make Raspberry Medallion a fall lover's dream starting with the pretty plum ground. She sprinkled shades of latté, amethyst and a dash of coral to create that autumn feeling we all know and love.
You can add Raspberry Medallion to your closet on August 8 in Iconic, Carson and Clearly Colorful styles. The stunning accent colors in this berry-licious pattern pop best when paired with Rose Petal or Berry Red. However, if you're looking for a more understated match, we'd recommend Mulled Wine and Blackberry Wine.
how to wear it
The deep berry ground of Raspberry Medallion makes it the perfect pattern pairing as you begin to curate your fall wardrobe. No matter if you're wearing black, brown or any other fall favorite, this pattern's palette will coordinate flawlessly. Our favorite way to style Raspberry Medallion is with a warm red or berry sweater to bring out the various shades within the design. The medallions on this pattern are so classic that we recommend carrying it in a bag you'll bring with you everywhere like our Iconic Campus Backpack.
make your wishlist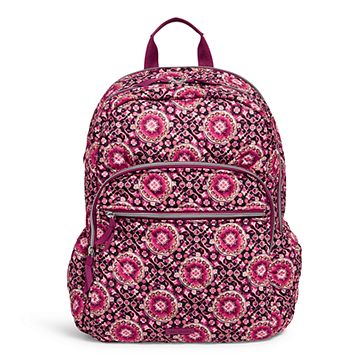 Laptop Backpacks
Laptop Bags
School Backpacks
style your tech
Dress up your phone, tablet and desktop screen with our new pattern wallpapers.