With the June heat comes summer festivities. From music festivals and concerts to baseball games and amusement parks, you need a bag that can carry it all while still being compliant. The last thing you want is to miss out on a day of fun because your bag is too large or doesn't comply with other security rules of the event's facility. This is why we created yet another collection to make your day-to-day a breeze. The Clearly Colorful collection consists of three brand-new clear styles so you can come and go with ease and style.
clearly colorful stadium crossbody
We've done the research for you with this collection. The Clearly Colorful Stadium Crossbody is the ultimate hands-free bag that's size-compliant for numerous stadium requirements. But why is it really the best style for summer? Because with the help of an adjustable strap, this crossbody seamlessly converts into a belt bag, so you dance the night away or cheer on your favorite team without being weighed down.
clearly colorful stadium backpack
Backpacks are our favorite style for an everyday bag even when they're clear! The Clearly Colorful Stadium Backpack is compact enough for day-to-day use, while still offering added function with an exterior zip pocket. Plus, you'll have no fear of spills with its wipeable material. This style also has patterned trim and straps, giving you that pop of color you always need!
clearly colorful large backpack
If you love the look of the Clearly Colorful collection so much that you want to head back to school with it, we've got you covered. The Clearly Colorful Large Backpack lends the space you need to carry your books, pencils and more. This style also includes one zip and two mesh exterior pockets for easy access to your phone, wallet and keys. Best of all, say goodbye to digging around for that eraser at the bottom of your backpack with this clear material!
shop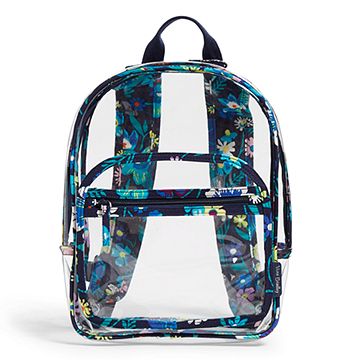 All Gifts
Graduation
Purse Backpacks
All Gifts
Graduation
School Backpacks
Which Clearly Colorful style do you see yourself carrying this summer? Comment below!