We're teaming up with the Association of Zoos & Aquariums to raise awareness for an important cause. Today, May 17, is Endangered Species Day — a day dedicated to bringing awareness to the conservation efforts protecting endangered species and their habitats. We're partnering with AZA for a summer sweepstakes so you can get involved, too!
enter here
Simply fill out the form below for a chance to win, then unlock six additional bonus entries to improve your chances.
Vera Bradley and Association of Zoos & Aquariums Sweepstakes

grand prize
Ten lucky Grand Prize Winners will each receive a Shore Thing beach gift set just in time for summer ($380 value each).
about aza
The Association of Zoos and Aquariums (AZA) is an organization comprised of more than 230 accredited zoos and aquariums across the US. AZA-accredited zoos and aquariums serve as a critical link to wildlife conservation efforts and connect the public to wildlife and wild places. AZA SAFE: Saving Animals From Extinction combines the collective expertise of AZA members with contributions from visitors and members to save animals from extinction. Two of these SAFE species programs are Atlantic acropora corals and sea turtles, which happen to be the stars of our spring pattern, Shore Thing. Learn more about AZA SAFE.
beach bound
It seemed fitting to have the sea turtle and coral clad pattern, Shore Thing, be the anchor (pun intended) of our beach gift set. Start dreaming of those sandy beaches (or days on the lake) because this giveaway has everything to get you there. Our Drawstring Family Tote is a fan-favorite beach bag for a reason — it's water repellent, spacious, durable and has a drawstring mesh closure so you can shake out the sand before coming home! Since we can't get enough of Shore Thing, winners will also receive our RFID Beach Wristlet, Iconic Large Travel Duffel and Turtle Bag Charm all in this nautical beauty. Don't forget to pack your new beach towel, beach sack and clear lotion bag to be beach-ready in no time.
can't wait? shop now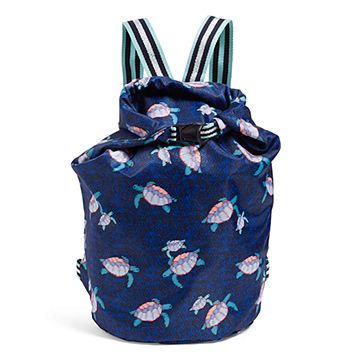 Want to get involved with AZA and the SAFE program? Help save species and donate online today.