While trends come and go, one material that remains timeless is denim. No matter if it's your jacket, your jeans or something else in between, it's always in style to sport denim. You wear denim or chambray in so many of your outfits that we couldn't help but feel like this material would be perfect for your everyday bag. We sat down with Senior Designer Lap-Yin to get all the details on the inspiration behind our new Chambray collection that is wearable for every season.
a pop of color
Did you really think we'd create a new collection without a pop of color? Of course not! In addition to Blue Chambray we are introducing a new pattern, Petite Garden. "This collection really integrates solids and prints in a way that we haven't done before," says Lap-Yin. "In particular, the chambray styles utilize a touch of print from the lining. The printed cotton styles use the same print as the lining from the chambray styles." All of the styles in this new collection will be available in Blue Chambray and Petite Garden.
a new look
Not only is this collection introducing a fresh fabric and pattern, but it also consists of nine new styles including the VBU Backpack, VBU Satchel  and more. Lap-Yin's favorite style from the Chambray Collection is the VBU Crossbody."I like the crossbody for its compactness and functionality," says Lap-Yin. "It holds all my essentials while having a small footprint." This all-star everyday bag is small but mighty with three exterior pockets, an interior zip pocket and an adjustable strap for comfort.
as functional as ever
We believe in having the best of both worlds, which means our bags are always beautiful AND functional. Lap-Yin created each style to have multiple compartments and pockets so you can keep things organized. Best of all, the chambray material is ultra-lightweight so your bag can keep up with your speed and style.
shop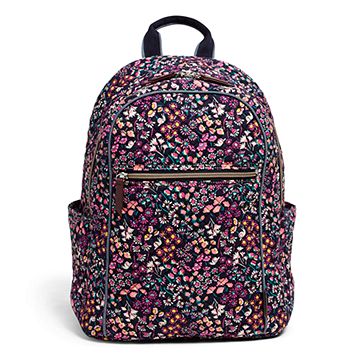 All Gifts
Gifts
School Backpacks
Stylish and secure is the best way to describe your everyday bag. We broke down what RFID Technology means and why it's in so many of our styles.