What comes to mind when you think of summer? Sunny days, cool nights, and blooming flowers only touch the surface of the magic this season brings. It's hard to put into words how gleeful summer makes us feel so instead we created Mint Flowers to better explain. This pattern is everything we adore about this sunny time of year. Not to mention the pastel ground brings us to our favorite summer place: outside. So come along and get lost in the summertime daydream that is Mint Flowers.
the inspiration
There are two words Print Designer Amanda uses to describe Mint Flowers: bohemian and feminine. Just one glance at this pattern and you'll see why. The various shades from mint and pink to yellow and teal flaunt those feminine touches throughout the print. The various floral motifs give that easy breezy, boho vibe we all love to integrate into our closet during the summertime. You might also be wondering why Mint Flowers feel a little familiar: Amanda found major inspiration in our fan favorite pattern Nomadic Floral when designing this print.
We adore Mint Flowers so much that we're making it available in Carson, Iconic AND Lighten Up styles starting May 9. We also needed a solid that would complement Mint Flowers while also making a statement of its own. This led to the shimmery Rose Quartz solid. This rose gold stunner will also be available May 9.
how to wear it
While summertime heat is relaxing, we know that this season of nice weather is jam packed with plans for you. From evening bike rides to weekend trips to the lake, your everyday bag needs to be versatile. Mint Flowers fits the bill perfectly. Its earthy tones make it adaptable to most any outfit, pairing best with colors in this pattern. We'd also recommend carrying Mint Flowers in the Sling Backpack for all of those summertime adventures. This sidekick is hands-free, lightweight and as functional as it gets with four separate compartments to carry your every need.
make your wishlist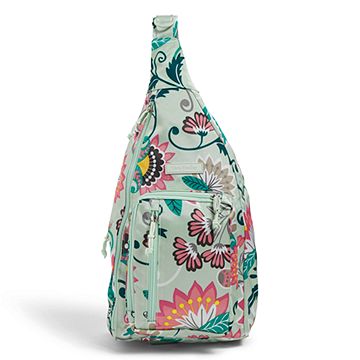 All Gifts
Graduation
Purse Backpacks
Sling Backpacks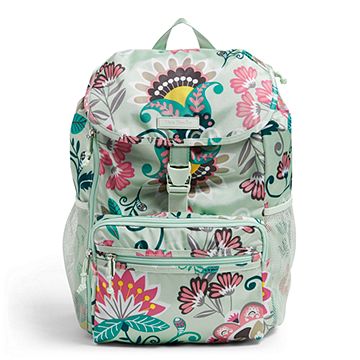 All Gifts
Graduation
Laptop Backpacks
School Backpacks
Travel Backpacks
style your tech
Dress up your phone, tablet and desktop screen with our new pattern wallpapers.