If there was ever a month when we need a pick-me-up, it's January. We all have a small case of the blues with that holiday bliss behind us. This is why our designers knew our latest pattern Stitched Flowers was perfect for January. Whoever said pink was only meant for the summertime was seriously mistaken. Stitched Flowers is full of suzani florals that you can rock year round.
the inspiration
For our super-fans out there, you may remember the pattern Call Me Coral from April 2010. This is why Stitched Flowers looks a little familiar. When Print Designer Lily began creating our latest pattern, she found herself pulling inspiration from the intricate vines and leaves of Call Me Coral. The fascinating motifs in this throwback print began Lily's drawing that would eventually evolve into the vibrant pattern, Stitched Flowers.
This detailed yet delicate pattern will be available in iconic styles on Thursday, January 10.  Our designers also created Stitched Garden, in our Lighten Up fabrication. If you like to pair your pattern with solids, we now have Khaki. This is a fresh color from our Midtown Collection that complements Stitched Flowers perfectly. That's not all! Did you really think we could forget about Valentine's Day? Of course not, which is why our designers added Stitched Heart Vines in select Iconic styles. That includes our favorite cozy essentials like the Plush Throw Blanket and Fleece Robe. (Yaaassss!)
how to wear it
Stitched Flowers gives your look and attitude an early jump on spring, so it's best paired with the pieces you wear all the time. There's no better staple in your closet than a striped sweater and  this happens to pair perfectly with florals. We like to keep our look layered (because January) with this pink striped button-down peeking out of a fitted sweater. We particularly love Stitched Flowers in the Iconic RFID Little Hipster to keep you hands-free on the go.
make your wishlist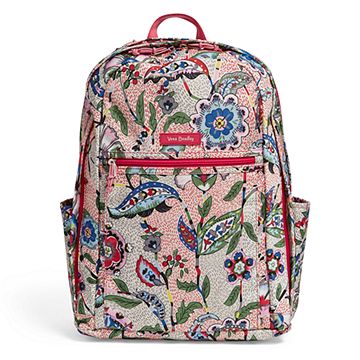 Graduation
Laptop Backpacks
Laptop Bags
Mother's Day
School Backpacks
style your tech
Dress up your phone, tablet and desktop screen with our new pattern wallpapers.