With the holidays around the corner, spirits are high. It's easy to get swept up in the season and want to incorporate festive touches into every part of your day during December. Switch up your style a bit and trade out your everyday bag for something a little more luxe for the season. Our new velvet styles are equally festive and chic for your next event and so easy to style with your holiday attire! Get some major outfit inspiration whether you're stepping out for a holiday soiree or just wanting to dress up your office look during December.
winter weekend
Although we like to keep it casual on the weekends, it's still fun to infuse a little festivity during the holiday season. Enter: our Hadley Backpack in a gorgeous navy velvet. This bag is bound to get you dozens of compliments, while keeping you hands-free for errands in crowded stores during the days leading up to Christmas. This backpack is the perfect size for everyday wear: it holds a full-size wallet, water bottle and a few holiday cookies (you know, the essentials).
We're firm believers that navy goes with anything and everything, but right now we can't get enough of it with our fun Cozy Hat! Pair it with a cozy cardigan and warm flannel shirt for a festive look fit for the weekend.
snowy soiree
No matter the type of party, we always recommend a crossbody bag. Our Iconic RFID All in One Crossbody is perfect for all occasions since it seamlessly converts from a crossbody into a wallet or wristlet. Our embroidered version will give your outfit an extra special touch, while the flower motifs will have you looking forward to spring (only a few more months to go)!
This cool gray shade is the perfect partner to pair with your festive holiday hues! Get out your favorite wool skirt and layer up for an evening of cocktails with good company.
9 to 5 festive
When your excitement continues to build in the weeks leading up to the holidays, it's hard not to have it spill over into your work life. Add a subtle, yet festive touch to your work attire with a patterned scarf (and if you're really extra, go ahead and throw in a matching notebook). Carry all of your work essentials from meeting to meeting in the ultimate work bag — now offered in velvet, too! The Iconic Vera Tote is perfect for work; roomy enough for a laptop, binder, notebooks, planners and more and able to zip at the top to keep everything secure. Now that it's offered in our luxe, soft velvet, we don't blame you if you want to buy a second! We have a sneaky feeling your coworkers are going to want one, too!
shop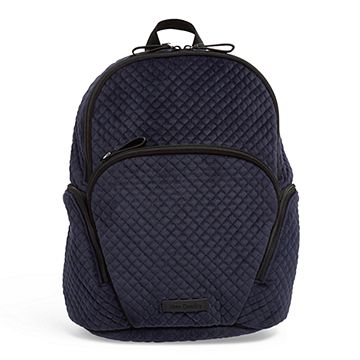 Still need a last-minute gift? Shop our top gifts under $100 (link to blog post) or send the perfect present with GiftNow™.