Icy blue and snowy white will forever be the symbols of the winter season, so naturally our latest pattern is covered with these colors. Arriving this week, Daisy Dot Paisley is the dream print for those wanting to carry something that feels appropriate for the season, yet bright enough to make even the coldest days feel vibrant. This intricate pattern has a lot more going on than meets the eye. Keep reading to catch all the inspiration behind Daisy Dot Paisley.
the inspiration
When our design team started to create Daisy Dot Paisley, they had a trending color in mind: aloe. No, not the kind you put on a sunburn, but instead think mint meets turquoise — that's the vibrant blue stealing the stage in this pattern.
However, this wouldn't be a Vera Bradley print without subtle accents that make all the difference. Our designers included hints of pink (naturally), splashes of khaki and even a little pop of gray that you can spot when looking closely. As for the inspiration for the design of this whimsical-hand print, they looked to vintage textiles.
Daisy Dot Paisley is available in our Carson, Hadley and Iconic collections. If you like to carry your travel or everyday bag in a fabric that's a little more heavy duty, Daisy Dot Paisley's sister pattern, Daisy Paisley, comes in our Lighten Up collection. You can't go wrong pairing either of these fresh patterns with a classic solid like our new Khaki shade from our Midtown collection or Denim Navy from our Carson and Iconic collections.
how to wear it
The best way to wear Daisy Dot Paisley is by pairing it with the accents within the print. This vibrant blue pattern coordinates well with a pale pink sweater and is the perfect statement to wear with an everyday coat like this khaki jacket. The style we can't stop obsessing over is the Iconic Vera Tote in Daisy Dot Paisley. It's compact enough to hold the essentials while still keeping out the clutter.
make your wish list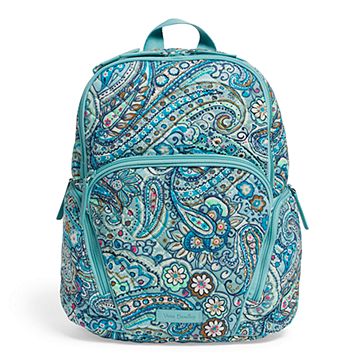 All Gifts
Graduation
Mother's Day
Purse Backpacks
style your tech
Dress up your phone, tablet and desktop screen with our new pattern wallpapers.