As we move from one month to the next, our designers aim to create patterns that embody the spirit of the season. As November approaches, we find ourselves on the cusp of winter, and our designers created the perfect pattern to lead us into this chilly season.
Bramble, arriving online and in stores November 8, reminds us of everything that's charming about winter. From frosty blues mixed with snowflake white and berry purple to the medallion-inspired vining florals, this pattern heats up those cold months ahead.
the inspiration
This intricate pattern came to life through hand-printing by Print Designer Lindsay. Looking back at the inspiration for this medallion-esque pattern, we see it's deeply rooted in jewel tones, tapestries and suzani florals (an embroidery style popular in Uzbekistan). Above all, our designers wanted Bramble to evoke a serene, traditional and classic mood.
Bramble will be available in both the Carson and Iconic Collections. However, we aren't stopping there! Our designers also created Bramble Vines, which is a more whimsical and floral take on Bramble that is offered in our Lighten Up styles. Bramble shines brightly when paired with our latest solid shade, Gloxinia Purple, which is also available in our Carson and Iconic collections.
how to wear it
Bramble's dark background pairs best with those winter staples you wear on repeat throughout the colder months. You can't go wrong with our Glenna Satchel in Bramble for your everyday bag; pair it with a gray sweater or cardigan and some classic denim. We also love to bring along our Medium Cosmetic in Bramble Vines. It's water-repellent and perfect for holding your make-up if you need to freshen up throughout the day.
make your wish list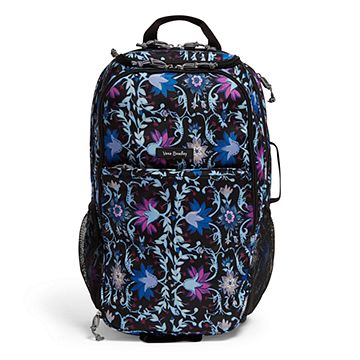 All Gifts
Graduation
Laptop Backpacks
Laptop Bags
Mother's Day
Travel Backpacks
style your tech
Dress up your phone, tablet and desktop screen with our new pattern wallpapers.
Got big travel plans this winter? Make sure you know what kind of traveler you are—and which bag will suit you best!
Shop the entire collection when it arrives,
online and in stores, on Thursday, November 8.