The way one packs can tell you a lot about a person and where their travels are taking them. Depending on the type of trip and destination, the way one packs changes drastically. Some of us tend to bring eight shirt options for a three-day business trip (we don't judge), while others only pack a single pair of pants for weekend excursions (teach us your ways). All travelers are unique and require a bag that can fit their packing needs. These five carry-on compliant bags not only are fan-favorites, but also can meet any frequent flyer's needs.
01
the overpacker
First of all, we prefer the term over-prepared. For those known for saving the day with extra band-aids for paper cuts and spare tissues for the chronic sneezer sitting beside you on the plane, we suggest the Iconic Weekender Travel Bag. As an overpacker, all your clothes are checked in a larger bag, so for all of the last minute items you need add them to the Weekender. From the large main compartment to the two exterior zip pockets, this bag carries every essential needed on the ground and in the air.
02
the minimalist
If you had it your way, you'd get up and go without anything to weigh you down. You only bring along the TRUE essentials: a couple of outfits, a phone charger and toiletries. If you want to limit your travels to a compact, lightweight travel bag, go with the Iconic Small Spinner.  It's made to carry all that you need compactly, and there are exterior pockets designed to hold your tech safely and make security a breeze.
03
the round-trip in a day traveler
While travel for many means fun, for others it means business. If you're a frequent flyer for work we have the perfect carry-on for your travel routine. The Iconic Convertible Garment Bag was made for business professionals on-the-go. You can easily pack a freshly ironed outfit in the garment bag portion of this carry-on, making it ready for your next meeting, yet still leaving room for your make-up, toiletries and tech accessories.
04
the backpacker
Our top pick for students getting ready to travel home for the holidays is the Lighten Up Journey Backpack. From the padded laptop sleeve and front zippered pocket to a compartment for an extra pair of shoes and a built-in glasses case, this bag has a spot for everything you're taking through the airport. Just throw it over your shoulder, clip the chest strap and you're ready for take-off.
05
the organized packer
This kind of traveler has a specific place for EVERYTHING when packing. As you're moving through the airport, you know exactly where each essential is that you're bringing with you — and for that we applaud you! A sidekick that's spacious yet organized is the Lighten Up Foldable Rolling Duffel. Our favorite feature has to be the bottom compartment on this carry-on. This large compartment beneath the main compartment is perfect for separating your shoes, ensuring your clothes stay neat and clean.
shop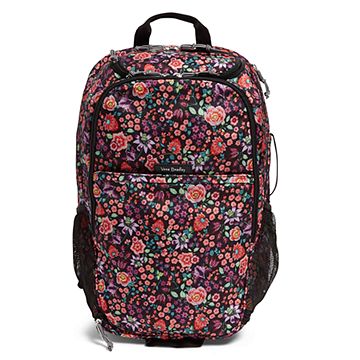 All Gifts
Graduation
Laptop Backpacks
Laptop Bags
Mother's Day
Travel Backpacks
Needing the perfect travel accessory to match your travel style? Read our Hanging Organizer guide here!