When fall comes to mind what color do you think of? For us, it's wine. The sight of a deep, luscious red tone brings autumn to mind just like the scent of pumpkin pie or the taste of apple cider. That's why we wanted to release our newest pattern, Bordeaux Blooms, during the month that feels the most like fall — October. The deep wine background vibrantly stands against dove gray flowers and accents of frosty blue and leaf green in this new pattern.
the inspiration
Arriving online and in stores on Thursday, October 11, Bordeaux Blooms lends a fresh take on fall trends. At first glance you may find it hard to believe that the inspiration for this intricate print all began with vintage wallpaper. After our designers tweaked the color scheme, updated floral details for a more contemporary look and added in a few dragonflies for a pinch of flair, Bordeaux Blooms came to life.
Bordeaux Blooms is available in our Iconic Collection, but also has a sister pattern, Bordeaux Meadow. Available in our Luggage Collection, this dainty pattern follows a similar color scheme with varied motifs and elements. And if you're a fan of mixing and matching your patterns and solids, both versions pair nicely with our Denim Collection.
how to wear it
For a pattern that speaks volumes, we like to pair it with softer, more neutral shades. It's perfect for sweater weather and we love the way this wine ground looks next to pale pink. What's even better about this pattern are the blue and green accents that look ever-so-fall when matched with blue or army green jeans. Our latest obsession is the Iconic Turnabout Crossbody. It transitions from pattern to solid with a single flip of the flap making this bag wearable at an early brunch with the gals, a late dinner with your someone special and every other occasion in between.
Check out other fall essentials that Bordeaux Blooms looks great in like our favorite umbrella,  plush throw blanket and and pajamas.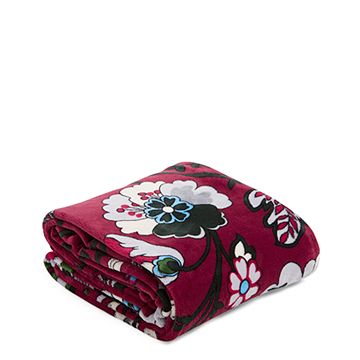 All Gifts
Blankets
Bridal Party
Dorm
Graduation
Mother's Day
style your tech
Dress up your phone, tablet and desktop screen with our new pattern wallpapers.