August is one of our favorite months, because a huge wave of new arrivals hits online and in stores. From fresh patterns to never-before-seen styles, there's a lot to get excited about while browsing through our latest and greatest. Although we are thrilled about all of our new arrivals this season, five of them stand out as absolute must-haves to add to your wish lists!
01
lighten up large travel duffel
You're likely familiar with the Lighten Up Large Travel Duffel's famous sister made in our signature cotton. However, we think this water repellent take on the Large Travel Duffel is a must for every traveler. Our lightweight yet durable Lighten Up fabric takes one of our fan-favorite silhouettes to the next level. Rain or shine the Lighten Up Large Travel Duffel is ready to go anywhere.
02
plush throw blanket
Just when you thought it couldn't get any better, we've improved everyone's favorite throw blanket. Our new Plush Throw Blanket has an irresistible buttery soft quality with a velvety hand feel in the same weight as the original. Not to mention, it's offered in a variety of patterns including Charcoal Medallion, Romantic Paisley and Vines Floral (coming soon)!
03
iconic turnabout crossbody
For the indecisive fashionista, we've got you covered with our Iconic Turnabout Crossbody. Our latest multi-compartment crossbody bag can be worn for two different looks. One side of the flap is cotton while the other is microfiber. You can flip between sides to sport your choice of a solid or patterned bag, depending on your mood!
04
2019 wall calendar
Is anyone else always itching to switch up their interior design vibes when the leaves begin to fall? We certainly can relate! We've been counting down the days to dress up our workspace with this vibrant wall calendar. Each flip of the page brings a new pattern to hit refresh on the month.
05
crew socks
What's one of our favorite items to collect that never goes out of style? Socks, of course! While each season there's a wide array of new patterns to choose from, this August we are low-key obsessed with our Romantic Paisley Crew Socks. Peek these paisley stockings out of booties to add a pop of color to any outfit this fall.
shop
All Gifts
Blankets
Bridal Party
Dorm
Graduation
Mother's Day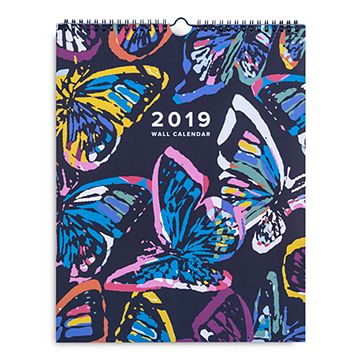 Want to catch up on everything else we have going on this August? Check out our Monthly Edit here.