Whether you're gearing up to head back to school or your campus days are long behind, fall is always a fresh start. From cleaning out your desk to switching over your closet for the new season, the anticipation of a refresh makes transitioning from summer to fall so much easier. We want to help you turn over a new leaf with the ultimate fall gift set. Enter for a chance to win our sweepstakes below!
enter here
Entering is easy! Simply fill out the form below to enter, then unlock five bonus entries to improve your chances.
Turn Over a New Leaf Sweepstakes

grand prize
Five lucky Grand Prize Winners will receive a gift set filled with not-yet-released fall bags and accessories to refresh their closet for everything from date night to a weekend getaway ($878 total value per winner).
how to wear it
day-trip date
No date outfit is complete without the perfect bag. A hands-free option like a crossbody is essential so you can focus on sipping cider and picking the perfect pumpkin without worrying about leaving your bag somewhere. Our Carson Mini Hobo Crossbody can hold a full-size wallet and has the prettiest embroidery to dress up any outfit.
Styles: Carson Mini Hobo Crossbody, Iconic RFID Accordion Wristlet and Rosy Outlook Bag Charm
weekends on-the-go
Between tailgating, evening bonfires and errands, your weekends are jam-packed in the fall. Although weekends can feel chaotic, you'll feel put together in a cozy scarf and chic sunglasses. Our new Midtown Convertible Backpack is the perfect match for your busy schedule with a zippered strap easily moves from a backpack to a sling. If you love bags that can convert to fit your needs, you need the All in One Crossbody. With the ability to transition from a wallet and wristlet into a crossbody, this bag truly can do it all.
Styles: Midtown Convertible Backpack, Iconic Flowers Bag Charm, Eyelash Fringe Scarf, Jamie Sunglasses and Midtown RFID All in One Crossbody
grand travels
Whether you're traveling for school, work or play, upgrade your getaway game with our favorite trip essentials. Business trips and weekend weddings will be a total breeze with our new Iconic Garment Bag (goodbye, wrinkles)! Organize the rest of your necessities in our Iconic Jewelry Train Case and our brand new Iconic Grand Hanging Organizer!
Styles: Iconic Garment Bag, Iconic Jewelry Train Case and Iconic Grand Hanging Organizer
Love our new Romantic Paisley pattern? It will be available to shop this Wednesday, August 8!
shop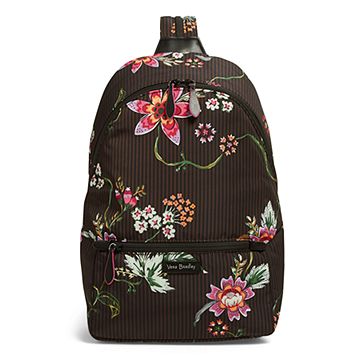 All Gifts
Graduation
Mother's Day
Purse Backpacks