With students returning to campus in the next several weeks, we certainly have had backpacks on the mind. However, backpacks aren't just for those campus-bound — these hands-free styles are perfect for travelers, commuters and weekend warriors alike. Last week we shared our ultimate backpack comparison guide to help you choose the right style, but today we wanted to share testimonials straight from the source. We had three bloggers test drive the backpacks that best fit their lifestyle and share the results with our readers. See what backpacks won the hearts of a student, commuter and mom.
---
student
favorite bag: Lighten Up Grand Backpack
---
"I love the Lighten Up Grand Backpack! During college, I'm often running from class to the gym and barely spend any time in my apartment. This backpack is big enough to fit everything I need for a full day! There are so many pockets perfect for books, my laptop and everything else I need for classes."
"This lunch cooler makes it so easy to bring healthy treats on-the-go — plus, it matches my backpack perfectly!"
shop abby's faves
Graduation
Laptop Backpacks
Laptop Bags
Mother's Day
School Backpacks
---
commuter
favorite bag: Iconic XL Campus Backpack
---
"The Iconic XL Campus Backpack fits my on-the-go lifestyle and makes heading out the door every day a breeze! It gives me room to pack everything I need for a work, travel or fun day, while keeping my hands free so I can bike around Charleston to meetings or events!"
"I absolutely need room for my laptop and this Laptop Organizer is perfect because it fits inside my backpack, but also has a handle so I can safely carry it on its own. I also always make and pack my lunch at home so I can be healthy and responsible with my spending. The Iconic Stay Cooler is great for meetings, [photo] shoots, events and perfect for picnics around Charleston!"
shop jillian's faves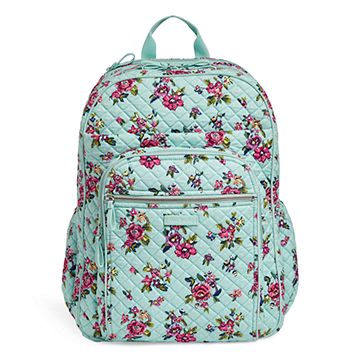 All Gifts
Graduation
Laptop Backpacks
Laptop Bags
School Backpacks
Travel Backpacks
Graduation
Laptop Bags
Mother's Day
Tech
---
mom
favorite bag: Iconic Backpack Diaper Bag
---
"This backpack is perfect for a mom — it holds everything we need in an organized way (and keeps my hands free)! I especially love how many pockets it has. There is a spot for everything — even my laptop, which is perfect since I'm a working mama, too!"
"Everything gets dirty when you have babies, so I look for easy-to-clean bags so they will stay looking new. The Iconic Ditty Bag is perfect because you can toss anything dirty in there since it has a wipeable liner. It's also so lightweight and can easily transfer from the car to the stroller and to my diaper bag."
shop megan's faves
Follow along the next several weeks for more posts on everything you need to get ready for campus this fall!