There's something about summertime that gives us a major case of wanderlust. Although we like traveling year-round, summer always feels like the best time to squeeze in a few trips from our travel bucket list. Last week we shared how to prep for your last-minute road trips, but today we're taking you overseas. Vacationing abroad certainly requires more planning than your typical road trip. You need to do your research on the safest locations, best views and easiest modes of transportation. You'll have to book your flight, renew your passport and find the perfect Airbnb.
Getting ready for an overseas trip can be overwhelming, but we're here to help. If you're planning to travel abroad for a week this summer, here are the things you should remember to do and pack before your trip!
what to pack
luggage
When traveling to a different country for seven days, it's easy to get carried away and overpack. Our Lighten Up Large Foldable Roller is lightweight and flexible, making it great for chronic overpackers since it can expand to fit everything you need! Your trip is going to be filled with plenty of exploring, so you'll want to pack comfortable clothing and shoes. We recommend choosing basics in a neutral color scheme, so you can mix and match to reduce the amount you pack! Save even more space by wearing your heaviest items on the plane and rolling everything else in your luggage.
Since you'll likely check your luggage, you'll have fewer restrictions on liquids and sizes of what you can pack. Our Lighten Up Hanging Travel Organizer can fit full-size toiletries and has a water-repellent fabric for easy clean-up if there's a mid-flight spill! You can also avoid a mess by separating your liquids into our 3-1-1 Cosmetic. This case includes three, three-ounce travel bottles, perfect for your shampoo, conditioner and body wash.
One of our favorite items to pack on any trip is our Iconic Ditty Bag. We often joke that this bag has one million uses, but we're not kidding. Whether you use it to separate out your already-worn clothes or a wet swimsuit, you're guaranteed to find a use for the Iconic Ditty Bag on your trip.
carry on
Having the right carry on is just as important as your checked luggage for an international trip. Since you'll be spending more time in the airport and on the plane than for a domestic flight, comfort is key. Our new Lighten Up Journey Backpack has padded straps for added comfort and separate compartments built specifically for your laptop, extra shoes, ID and sunglasses! We guarantee you'll have no trouble fitting your in-flight necessities in this spacious and lightweight backpack.
Wondering what should go in your carry on versus your luggage? Our rule of thumb is anything you need access to in the airport, on the flight or immediately upon landing should your luggage get lost. A sweatshirt, travel blanket and ear buds are a must for the plane, whereas an extra change of clothing, vitamins and chargers are important to have upon arrival. Toss in a small crossbody bag that you can take out once you start exploring!
how to prep
download entertainment
International flights are long, so if you tend to be a restless sleeper on planes, you need to have back-up entertainment. Rather than just listening to music, make the time go by faster with a new podcast or download a book to your Kindle for the flight.
print it out
Although it's great that you can use your phone for nearly everything during your trip, print out a hardcopy of your flight and lodging information. If your phone dies or you lose reception, it's always good to have a back-up!
invest in converters
Most countries don't have the same outlets as the United States, so you need to buy converters ahead of time. Converters vary by country, so make sure to look up what style you need before you go! Keep all of your cords, chargers and converters neat and easy to find by placing them in a Iconic Small Cosmetic Bag.
shop overseas trip must-haves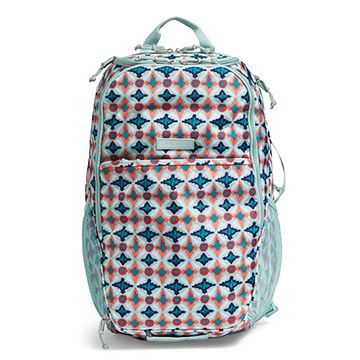 All Gifts
Graduation
Laptop Backpacks
Laptop Bags
Mother's Day
Travel Backpacks