This Valentine's Day, we want you to celebrate yourself! It's hard to balance it all, but you do it with ease. We challenge you to make this Valentine's Day all about you. Treat yourself to a day filled with all of your favorite activities. Not sure where to start? Here are a few ideas…
Take a Yoga Class
Start the day off on the right foot with a hot yoga class. You'll leave feeling refreshed and ready to conquer the day after sweating it out with your fellow yogis. Not to mention, you'll be centered and totally zen before the day has even begun!
Pro tip: Our Lighten Up Ultimate Gym Bag is spacious enough to fit an entire outfit and your beauty essentials, so you can dive right in to your day after leaving the studio.
Get a Massage
What better way to pamper yourself than getting a massage? Take 60 minutes to fully relax and work out the leftover tension from the holidays. You will be so relaxed when you leave, you may just fall back asleep (we don't judge).
Pro tip: Don't forget to bring a tote to hold your clothes when you change (this one is our favorite).
Schedule a Mani/Pedi
Grab your girlfriends and go get mani/pedis over lunch! You'll leave feeling a little more fabulous and totally relaxed from the luxurious massage and fresh paint color. There's nothing better than girl talk over some pampering.
Pro tip: Our Iconic Deluxe All Together Crossbody is the perfect option for getting your nails done. This style doubles as a wallet and can snap right open, so you don't have to fumble around in a large bag and risk ruining your nails.
Try a DIY At-Home Facial
Let's be honest, your skin could use a little love after the past few months. The frigid winter air has left your face dry and dull, so dedicate a night to fix it. Pick out one of your Pinterest DIY facial recipes, kick back and let it work its magic. At best, you'll feel rejuvenated and have discovered a new skin regimen — at worst, you'll have some silly snaps to send your friends.
Pro tip: Organize your facial ingredients into small cosmetic bags, all in different patterns. This way, you can quickly differentiate between your favorite peel and go-to scrub, and have them organized for pampering on the go.
Enjoy an (Uninterrupted) Movie Night
With the constant balancing act of priorities and social commitments, it's not often we let ourselves just relax and do nothing but watch TV. You deserve an uninterrupted night to (finally) watch La La Land and catch up on all of this year's Academy Award nominees. Pour the wine and let yourself enjoy a night in.
Pro tip: Our Throw Blanket is not only great for snuggling up during a movie, but also makes a lovely accent piece in your living room.
Shop our favorite Valentine's Day essentials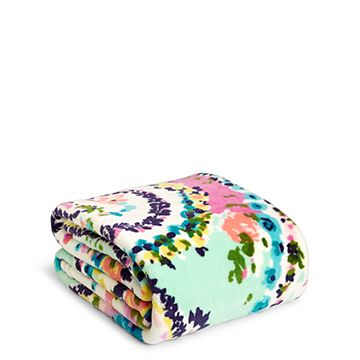 Blankets
Dorm
Graduation
Mother's Day
How do you plan to treat yourself this Valentine's Day? Share below in the comments!